Christmas approaches. Most
Assyrian Christians
living in Syria and Iraq cannot worship in peace. If they have a church in which to celebrate Holy Mass, one wonders how much longer the building and the community for which it is home will survive.
The many who have had their churches destroyed, where then do they worship? Many are on the run from their oppressors. Many are huddled in makeshift shelters in refugee camps. They, far better than us, understand the hardship the Holy Family embraced when compelled by an occupying force to leave their homes to register in a census in a distant town. Recall, after the birth of Jesus, the Holy Family had to flee from the despotic King Herod's envy and wrath.
As we enjoy our forthcoming Christmas celebrations, feasting and opening gifts in our relatively comfortable surroundings free from threat, we would do well to give thanks for the blessings of home and religious freedom. As you pray during Mass, call to mind what our brothers and sisters in Christ must be going through. Pray for them. If you haven't already, please consider a donation to a relief organization [
link
]. Help
sponsor an Assyrian refugee family
from Syria and Iraq.
http://www.acn-aed-ca.org/giving/
AINA News
List of Assyrian and Other Churches Destroyed in Syria
2015-12-13 02:15 GMT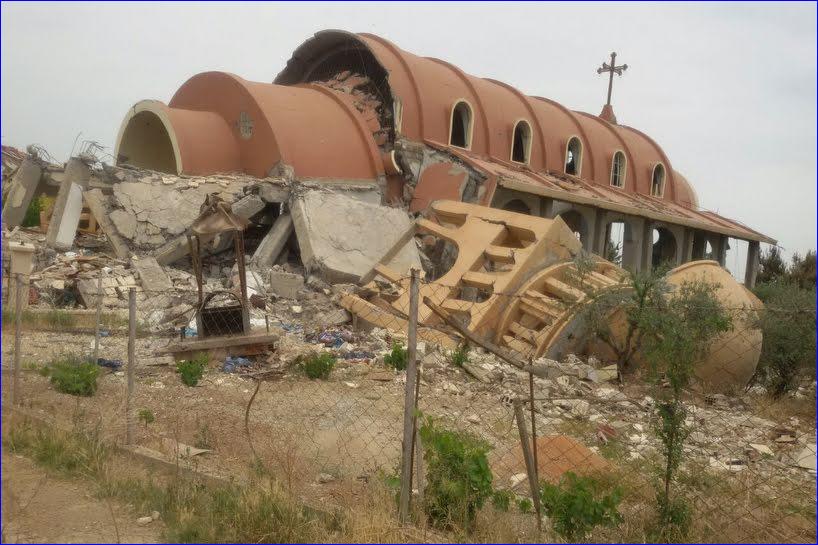 St. Mary's Assyrian Church in the northeastern Syrian village of Tal Nasri, destroyed by ISIS. (AINA)
The following is a list of Assyrian churches and monasteries in Syria that have been destroyed by ISIS and other Muslim groups. Also included is a list of non-Assyrian churches that have been destroyed.
Attacks on Christians in Syria began almost immediately after the Syrian civil war began. The attacks have targeted villages, churches monasteries and the clergy, and have been perpetrated by Al-Qaeda, The Al-Nusra Front, ISIS and other Muslim groups.
Destroyed Assyrian Churches
ISIS destroyed 11 churches and villages, rendering some villages uninhabitable.
Tel Nasri, St. Mary Church
Tel Jazirah, St. John Church
Tel Shamiram, St. Bishu Church
Tel Talaa, St. Sleewa Church
Abu Tena, St. Shimun Church
Qabr Shamiya, St. Qoryaqos Church
Tel Baloaa, St. Shimon Church
Kharita, St. Shimun Church
Tel Meghada, St. Qoryaqos Church
Tel Tal, St. Odisho Church
Tel Hormizd, Raban Pityou Church
List of attacks
on Assyrians in Syria by ISIS and other muslim groups:
2015-12-09 ISIS Release 25 Assyrian Hostages in Syria
2015-11-24 ISIS Release 10 Assyrian Hostages in Syria
2015-11-07 ISIS Release 37 Assyrian Hostages in Syria
2015-10-08 ISIS Execute Three Assyrians in Syria
2015-09-16 4 Assyrians Killed in Hasaka Car Bombing
2015-08-11 ISIS Release 22 Assyrian Hostages in Syria
2015-08-07 ISIS Captures 250 Assyrians in Syria
2015-06-17 ISIS Release Assyrian Hostage in Syria
2015-04-23 Assyrian Military Leader Killed in Syria
2015-04-05 ISIS Destroys Assyrian Church in Syria
Click HERE for additional information/incidents.